By Intisar Seraaj
If you're not really a T.V. or movie-watching type of person, the weather during the Spring and Summer was on your side. Due to the Coronavirus pandemic, we had to find alternative ways of entertaining ourselves like going on nature walks, outdoor skating, or having an outdoor picnic. As it turns colder around the U.S., some of us—those who prefer not to be outside in the cold for too long—have even fewer options now. So, even if you weren't originally a T.V. and movie-watching kind of person, you might have given in a little by now. That's where we come in.  
Let's face it, we all need a distraction to soothe our election fatigue. So, whether you were already glued to your screen and binge–watching oldies and newbies or you're just joining the rest of us tech zombies in our pandemic blues, here are some shows and films you should check out. We promise they're worth your time because they're centered around foster care, adoption, and special needs. Enjoy! 
Unadopted on YouTube  
Although it's National Adoption Month, we must also address the fact that some kids in foster care go without ever being adopted. Even if some youth are placed in a compatible foster home, they might age out of the system without being legally adopted. Sadly, the facts are the older the adolescent, the harder their chances usually are at being adopted.  
The new mini-documentary Unadopted explores what happens to teenagers in foster care as they approach the point of aging out of the system. It also examines the systemic bias against families of color. 
Watch the trailer here: https://bit.ly/3ifS2Pw 
Watch the full film here: https://bit.ly/2G1zW6U  
Released September 25, 2020, Foster Boy is a drama about a young man who was imprisoned after years of abuse in the foster care system, which led him to suffer from PTSD. He works with his lawyer to get justice and expose the foster care system for "willfully turned a blind eye to his suffering while lining their pockets in the process."  
The film is based on the true story of Chicago attorney Jay Paul Deratany and his work representing an abused foster care youth suing private foster care agencies that ran rampant with abuse. The movie features such stars as Louis Gossett, Jr., Matthew Modine, and Michael Beach, and was executive produced by retired NBA Hall of Famer Shaquille O'Neal. 
Watch the trailer here: https://bit.ly/3cJy26H 
Watch the full feature in a theater near you. 
Deaf U on Netflix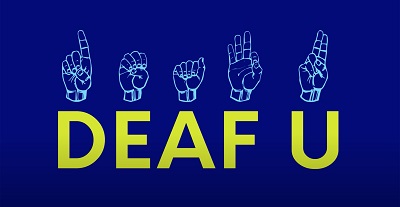 Released on October 9, 2020, Deaf U follows students at Gallaudet University, the famed Washington, D.C. private college for the deaf and hard of hearing. Produced by deaf model, activist, and actor Nyle DiMarco, the docuseries aims to break barriers, normalize deaf culture, and increase deaf representation on screen. 
Watch the trailer here: https://bit.ly/30lrJRT 
Watch the show here: https://bit.ly/2HIy17C  
Audible on Netflix 
Audible is another deaf-centric documentary coming to Netlfix that was produced by Nyle DiMarco and a few others. The 36-minute film documents the journey of high school athlete Amaree McKenstry-Hall at the Maryland School for the Deaf. 
Watch the trailer here: https://bit.ly/3l8jCjP  
Full documentary COMING SOON